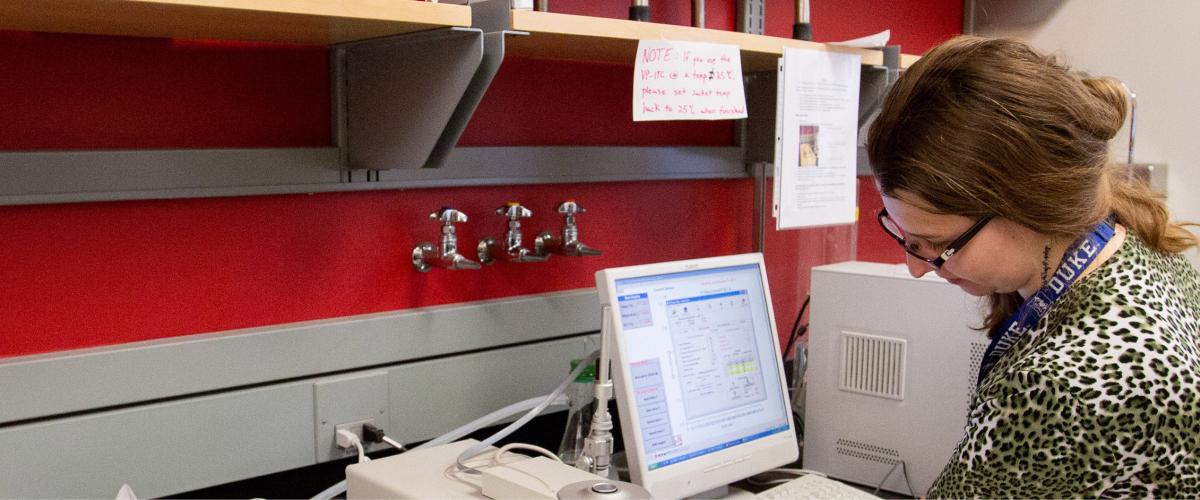 We've Got You Covered
The Duke University Graduate School and Department of Biochemistry offer 100% financial support for 6 consecutive years, provided that you continue satisfactory progress in the graduate program. The department also encourages you to apply for other institutional and outside fellowships which will add distinction to your graduate record and allow the department to support additional highly qualified students.
Financial support
The table below represents our estimated financial support for year one (for the 2023-2024 academic year), with successive years supported similarly:
| | |
| --- | --- |
| Annual Stipend  | $38,600.00 |
| Tuition Scholarship (Yrs 1-3 only)   | $60.220.00 |
| Tuition Remission Award ($3,560/sem) | $12,000.00 |
| Graduate School Fee Award                         | $  1,542.00 |
| Health Insurance (est.) | $  3,650.00 |
| Transcription Fee (paid in yr 1 only) | $     120.00 |
| Total (per year) | $116,132.00 |

Fellowship Stipend Schedule
Throughout your graduate studies, you will be awarded a monthly stipend*, disbursed at the end of each month with the following schedule:
At a rate of $

2,969

*/month (pre-tax) over 13 months starting in August of your first year.
At a rate of  $

3216

*/month (pre-tax) over 12 months starting in September of your second year.
*monthly stipend estimates based on the rate for 2023/24.
Fellowship & assistantship stipends are taxable. Please read more in the Graduate Student Handbook.
Research Assistantship Stipend Schedule
Beginning in the third year of your PhD in Biochemistry, financial awards are:
Paid directly from your research advisor.
Dispersed through 12 equal payments on the 25th of each month.
Vacation Policy
Vacation time for teaching and graduate assistants and Duke-funded fellows is discussed between the DGS and the faculty research mentor. During your graduate training you can expect:
A minimum of 2 weeks (ten working days) per year if you are funded by a PI research project and on a twelve-month stipend.
Additional time off, paid or unpaid, with approval from your advisor (may be subject to funding agency restrictions).  
University observed holidays and time away for professional activities (i.e. conferences, workshops, or interviews).
Sick Leave Policy
Graduate students are allowed a minimum of 12 working days per year for medical reasons. Students wishing to take additional periods of sick leave, paid or unpaid, must receive approval from their advisor. 

Please Note: You cannot carry over or payout unclaimed vacation or sick days, and sick leave days cannot be used as paid vacation.
Student Loans
The Graduate School offers two short-term student loan programs to PhD students; the Duke Credit Union Graduate Student Assistance Program and the Helen and Gordon McKinney Emergency Loan Fund. New and current students can use these funds to settle into a new home when they begin their Ph.D. program, purchase a computer, or address an unexpected emergency. These loans have some restrictions and a maximum borrowing amount.
Paid Travel Fellowships
Biochemistry Department – Kamin Travel Fellowship
Students who have been awarded a Graduate School Conference Travel Fellowship are automatically eligible for a Kamin Fellowship which covers up to $400 in unpaid travel expenses. Graduate students who are unable to obtain a Graduate School Travel Fellowship can also apply for a Kamin Travel Fellowship. This award is not automatic.
Graduate School – Conference Travel Fellowship
​The Conference Travel Fellowship is available to any graduate student enrolled in a PhD granting program or department, who has passed all parts of the preliminary exam, and is actively participating in a conference (i.e., presenting a paper or poster, or leading a discussion). Students are limited to one conference travel fellowship per fiscal year (July 1 – June 30) and can receive up to $525 for domestic and $700 for international travel. The fellowship includes:
registration fees
primary travel
three nights of lodging
meals for four days (up to $25/day) 
Other Department Financial Support
Recreation Fee
The Graduate School pays your recreation fee (e.g., Wilson and Brodie gym) for years 1-5 and the department has generously decided to cover your recreation fee for the 6th year. You will receive instructions on how to "opt-in" to receive this benefit. 
Health Insurance
All graduate students are required to have health insurance and the school will cover your premium costs for the Duke plan (Duke SMIP). All International students (holding F-1 or J-1 visas) ARE required to enroll in the Duke plan. Domestic students, however, can opt-out of Duke SMIP but must meet waiver criteria by providing proof of comparable alternative insurance coverage at the beginning of the fall semester. If you obtain a waiver The Graduate School will provide a $600 stipend supplement included in your October paycheck. 
If you terminate from the program, take personal leave, or graduate, you can continue health insurance coverage for the remainder of the plan year at your pro-rated cost. Otherwise, the Graduate School pays the premium only through the last day of the month.
Health Fee
The Health Fee covers usage of the Student Health Center (SHC) located in Duke Hospital South. The health fee:
Is paid for by the University (included in the graduate school fee award).
Is separate from comprehensive health insurance.
If you have questions about the Duke SMIP or the Student Health Center you can visit the Duke Student Health Center website or call 919.681.WELL.
Dental Insurance                                                                                   
Dental services are available through the Student Wellness Center or you can also purchase DentalBlue insurance here.
Child Care Subsidy
For PhD students that require childcare, The Graduate School gives child care subsidies of up to $7,000 per year for 3 years (special exceptions may be considered on a case-by-case basis). You must be:
A full-time Ph.D. student at Duke University
In a two-parent family where both parents are in school, working, or seeking work outside the home
Other Funding Opportunities   
Office of Research Support
Applicants are urged to compete for national and foundation awards. Consult Duke's Office of Research Support for federal and private sources as well as other monies funded by the university. External awards typically replace departmental or Graduate School awards. 
Competitive Fellowships for Continuing Students
In early fall, you can apply for numerous Fellowships for Continuing Students through The Duke Graduate School. Fellowships range from dissertation and research travel to outright grants for students that meet specific criteria. Search for opportunities on The Graduate School's "Find Funding" website.