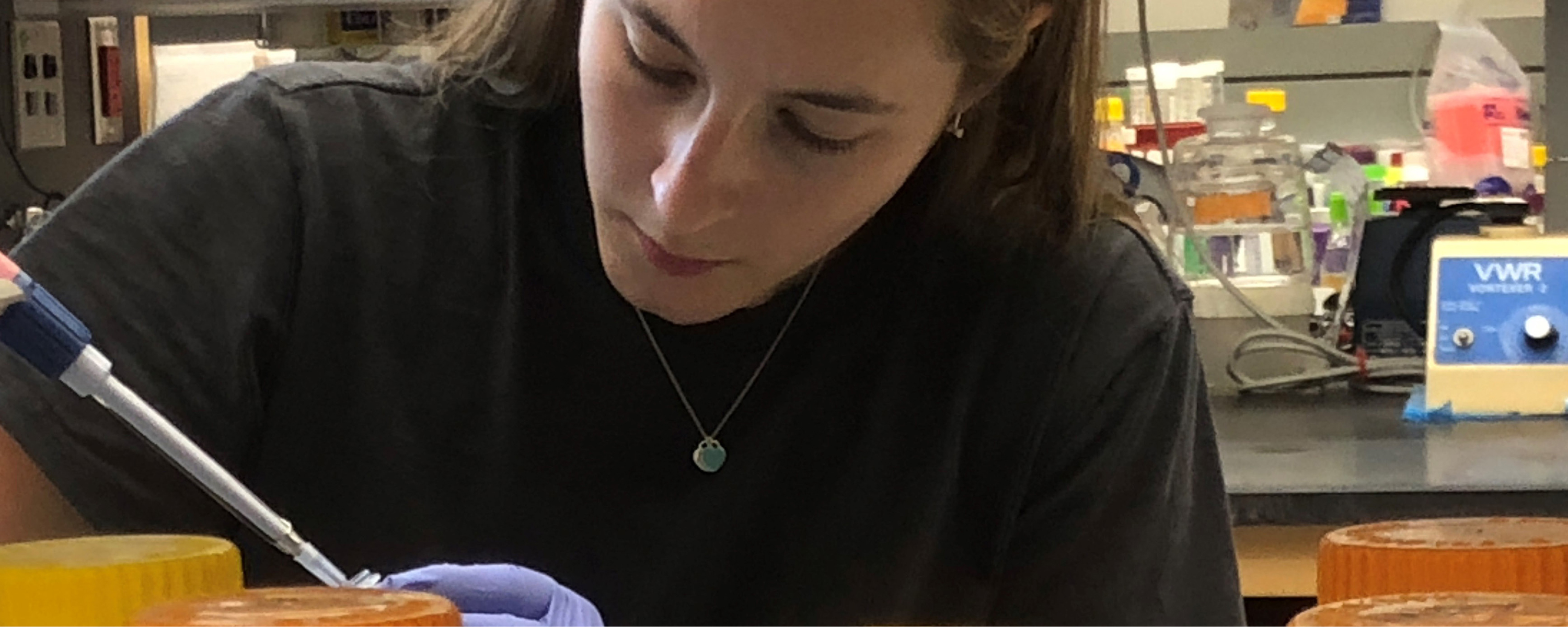 The application deadline for Fall 2023 is November 30, 2023.  Please apply here. Please sign up to receive information about our biochemistry program and follow us on Twitter. 
 

Study Among the Best
With 2 Nobel Laureates, research recognized by membership in the Howard Hughes Medical Institute and 6 faculty in the National Academy of Sciences, Duke's Department of Biochemistry is one of the pre-eminent programs in the country. We offer a wide range of research options and close collaboration with our faculty—training you to become a skilled scientist who's ready for academia, industry, or government.
---
Biochemistry PhD graduate students learn the fundamental concepts in biochemistry and physical biochemistry and the critical analysis of published research through:
An environment that leverages knowledge from in and outside the university
You will work with primary and/or multi-disciplinary faculty to choose a thesis topic from a wide range of current research projects including:
Analysis and design of protein and RNA structure
Biogenesis of membrane proteins
Cytoskeleton structure
Drug design
Enzyme mechanisms
Glycoproteins
Ion channel structure and function
Membrane receptors and signal transduction
Membrane vesicle production and function
Mechanisms of DNA repair and DNA repair defects in tumor biology
Mechanisms of microbial pathogenesis, drug resistance, and tolerance
Metalloproteins
Prokaryotic and eukaryotic transcription and gene regulation
RNA modification
X-ray crystallography and NMR studies on macromolecular structure and folding
Broaden Your Horizon. Focus Your Career Plan
We provide resources that start you on your career trajectory with leadership instruction, professional development, and teacher training workshops. In a testament to our career development, our graduates have taken positions in academia, industry, and government agencies. See where they're working.
Our Location Fosters Collaboration
The Department of Biochemistry is an integral part of the world-renowned Duke Medical Center and sits adjacent to the Arts and Sciences Campus—placing our faculty and students in the center of a highly productive and collaborative scientific community
---

"Duke is very committed to taking care of its students—there is always someone who is ready to help and support you. The biochemistry department especially feels like home!" 

—Grace Hooks, 2019 Matriculant

---
We're Here to Help  
You'll have access to multiple resources that will help you transition to your PhD in Biochemistry and make your graduate experience just a little bit easier.
The Duke Graduate School
The Graduate School fulfills the academic, financial, social, personal, and cultural needs of all graduate students by promoting diversity, encouraging faculty/student communication, and advocating for your primary student role—immersion in your research.
The Department of Biochemistry
Within the department, there are the Faculty Advisory Committee, Research Mentors, Curriculum Advisors, and the Biochemistry Graduate Student Office that works for your success and helps you plan for your future. 
The Biochemistry Graduate Student Council (BGSC)
This BGSC is composed of five, annually elected members who represent the graduate student body. Three members serve as core BGSC representatives; the fourth member coordinates volunteer and outreach opportunities; while the fifth member is the department's Graduate and Professional Student Government (GPSG) representative. The BGSC helps identify and solve graduate student life issues by working with the department and the Graduate School.  And at monthly meetings, the council and interested students discuss upcoming BGSC hosted events.
Biochemistry Mission Statement
The mission of the Duke University Biochemistry Graduate program is to educate and mentor students from diverse backgrounds in the fundamentals of biochemical principles and practice through courses and research by (1) guiding students in their thesis research project, and (2) preparing them for a career in research, education, or other disciplines. The program promotes a commitment to excellence in research scholarship and fosters a spirit of creativity, service, and respect, within an environment that is ethical, inclusive, and diverse.
Graduates from our program will have the necessary knowledge, research skills, and career guidance in the field of biochemistry to succeed in a research and/or scientific career. Specific program aims are:
Coursework: Graduates will be trained in a broad understanding of cellular structure and function at a molecular level; with deep knowledge in specific disciplines such as nucleic acid biochemistry, molecular genetics, biophysical methods, mechanistic enzymology, glycobiology, and membrane biogenesis, dynamics, transport, and receptor biology; and critical scientific thinking skills.

Research: Develop student skills a) in the laboratory and/or with computational research in order to reveal new biological principles; b) to perform in-depth analysis, interpretation, and presentation of research results; and c) to conduct ethical and responsible research.

Career Development: Prepare graduates for careers in interdisciplinary biochemical fields through training in scientific research, responsibility and ethics, teaching, and science communication.