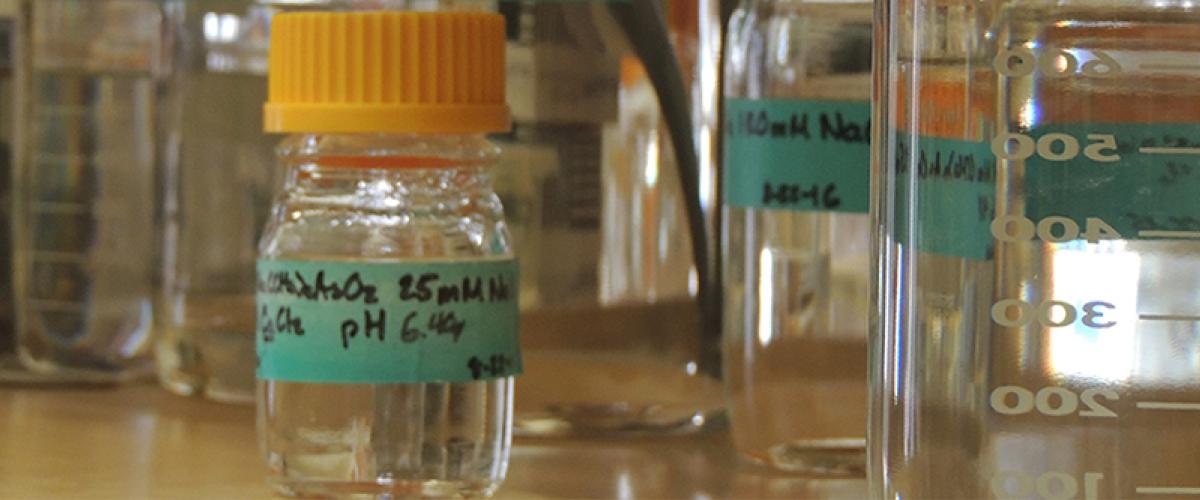 To foster an investigator's success, The School of Medicine offers a variety of core facility services, professional development programs, and seminar series. 
---
Biochemistry Department Resources
Ethics
The Department of Biochemistry expects its members to adhere to the highest practices when carrying out all aspects of their research, academic programs, and administrative duties. An overview of our goals appears in the department's SCAP—that all department scientists have an open and unintimidating research environment, which enhances the transparency and quality of their science. This SCAP also summarizes a wide variety of instruments put in place to provide all members of the Department with appropriate avenues to maintain the quality and integrity of their research programs and administrative duties as well as those of their colleagues.
The Department of Biochemistry Scholarly Culture and Accountability Plan (SCAP)
---
Student 
The Office of Biomedical Graduate Education coordinates activities that impact all graduate students associated with the School of Medicine and its interdisciplinary programs. Included are the Responsible Conduct in Research retreat for new students, that's held at the Beaufort Marine Laboratory each fall, and the RCR retraining session, that's required of students at the end of their third year. The office aids in program assessment, implementation of standardized policies within the biomedical programs, and the preparation of training grants.
Office of Biomedical Graduate Education
---
Diversity
The Duke Graduate School is dedicated to and benefits from a student population diverse in background, culture, socioeconomic status, race, ethnicity, and work/life experiences. As part of a larger institutional commitment to promoting different perspectives and a diverse student body, we encourage applications from all sectors of society, including prospective students whose life experiences may include the challenge of access due to a disability. 
Read more about our Diversity Resources. 
---
Career 
​No matter what your career plans, your graduate school experience should encompass more than just coursework, research, presentations, and publications. The Graduate School provides programs, resources, and events to help with your career—from identifying potential paths, to developing skills to compete for different jobs, to managing your career. You can find additional Career & Professional Development Resources on the Office of Biomedical Graduate Education website.
Professional Development for Graduate Students
Career Counseling for Graduate Students
---
Graduate School Resources
Duke University's Graduate and Professional Student Government is the umbrella student organization for Duke's nine graduate and professional schools.
Graduate & Professional Student Government (GPSG)
Graduate School Academic Policies and Forms
Graduate School Academic Affairs 
---
Student Health & Family Resources
Duke University Student Health Services (SHS) is jointly supported by the Division of Student Affairs and the Department of Pediatrics. Delivered at the Duke Student Health Center, it is the primary source for a range of healthcare services, many covered by the Student Health Fee. Their mission is to provide a compassionate, non-judgmental environment that provides comprehensive, first-class health care and patient education that is respectful of diversity.
Counseling & Psychological Services (CAPS)
Counseling and Psychological Services (CAPS) helps students successfully live, grow, and learn in their personal and academic lives. They offer a variety of services to Duke undergraduate, graduate, and professional students, including brief individual counseling/psychotherapy, consultation, couples and group counseling, assistance with referrals, and more.
---
Student Life Resources
The Division of Student Affairs engages in all aspects of student life and collaborates with students, faculty, staff, alumni, parents, and many others in delivering key services that support student growth; enhance their intellectual, social, cultural, and physical development; and complements Duke's academic excellence by giving students opportunities to explore their interests beyond the classroom.
International House (IHouse)
International House provides educational services and advocacy to Duke's international population as well as outreach to the Durham community. They offer extensive cross-cultural programming and information that enhances the university's global mission.
---
Other Resources
The Duke Visa Services office monitors and shapes legislation, regulations, and policies at the federal, state, and local levels that affect international educational exchange.
Duke Parking & Transportation Services provides parking facilities, buses and shuttles, and means of alternative transportation throughout the University and Health System.
---
Social Media is the best way to stay up-to-date on The Duke Graduate School.