2022 Matriculant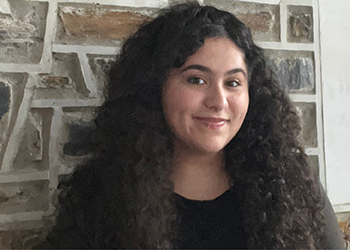 Dalal Azzam
Dalal did her undergraduate studies in biochemistry and neuroscience at UNC-Chapel Hill. She focused on the biochemical mechanisms underlying fundamental biological processes and used biochemical and structural methods to research the impact of histone modifications on chromatin organization and gene expression.
For Dalal, her Ph.D. is when she'll expand her technical skills, deepen her critical thinking, and navigate asking meaningful questions. She'll learn this by exploring protein-DNA interactions in the context of cell function and disease, learning new structural techniques, and combining biochemistry and structural biology to make new and impactful discoveries. 
Dalal finds that Duke provides graduate students with a unique opportunity to work first-hand with renowned faculty and mentors. Its strong network and collaborative environment serve as the perfect place to grow academically and professionally. She also thinks Durham is an extraordinarily vibrant and diverse place to live and says, "the city is a melting pot of many cultures, backgrounds, and perspectives and is no doubt a place you can find a community!"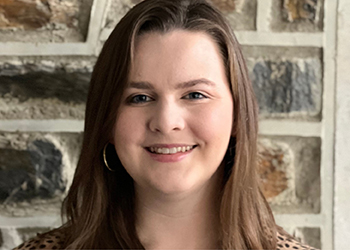 Violet Beaty
Violet did her undergraduate studies just down the road at UNC-Chapel Hill. There she received her BS in Chemistry, studying analytical biochemistry. Keeping her options open, she'll decide on her PhD research area after she rotates through different labs. But her overall goals are to learn how to be an independent scientist, how to ask critical questions and discover manageable approaches to answer them, and to build a group of colleagues that will support her throughout her scientific career.
She appreciates Duke's biochemistry department and thinks it has the most lovely group of people she could have asked for—a community that feels comfortable, welcoming, and like a small family. She can talk to anyone at any level and be treated with respect and kindness. She also feels the department is the best place to do science and has a learning environment where she feels supported and valued, even in the early stages of her career. Violet knows this level of community is rare and considers herself lucky to have found this at Duke.
Although Violet technically lives in Chapel Hill, she thinks the triangle area is a great place to live. The food and fun options are endless, and the people are generally kind and easy-going.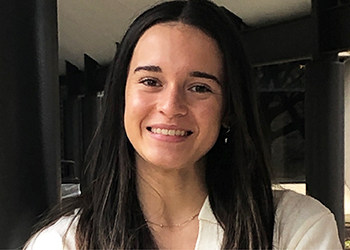 Karly Forker
Karly graduated from Bucknell University. Her undergraduate degree was in Cell Biology and Biochemistry and her scientific interest was in stapled peptides, specifically comparing the cellular internalization of different types of peptide stapling techniques. Being that she's new to the PhD program, Karly is leaning towards studying structure-based drug design.
What does she hope to accomplish at Duke? She wants to be trained in a wide range of biochemical techniques, to make personal and professional connections in and outside the university, and to become an expert in a research area that interests her.
Karly likes how the biochemistry professors have an open-door policy and that the department as a whole is very welcoming and inclusive. She very much feels that everyone has the student's best interest in mind. And living in Durham? Well, there is the great weather, its many running trails, a good local food scene, and friendly people.
2021 Matriculant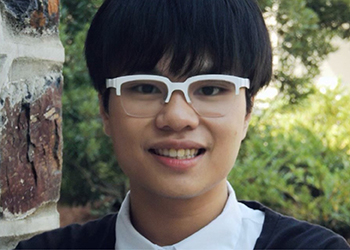 Bach Nguyen
As an undergraduate, Bach Nguyen studied organic chemistry at Japan's Nagoya University. His first project was quite challenging—he developed a free-metal catalytic methodology for epoxidation. And in his senior year, he established a strategy to make nano-carbon molecules more soluble and biocompatible so they could be used in biological systems. Specifically, he developed synthetic methods and used various spectroscopies to synthesize and characterize nanocarbons conjugated with short peptides.
Although he was trained in organic chemistry, Bach eventually became more interested in enzymes and biology and searched for a graduate program that offered training in those two areas. In choosing Duke, he is now studying enzyme's activities and mechanisms and trying to leverage mechanistic understandings to develop novel synthetic methodologies to make molecules more efficiently and sustainably.
To Bach, his PhD is more than his basic research—he wants to learn how to think critically from faculty and wants to take advantage of collaborative opportunities with other Duke scientists. With the biochemistry department housed in the School of Medicine, he also hopes his research can be translated into therapeutics that benefit patients.
Bach has taken advantage of opportunities with other School of Medicine biomedical departments and has enrolled in a variety of non-biochemistry courses. This has allowed him to learn different topics and build his network with people in similar PhD programs.
When it comes to life at Duke and in Durham, Bach says campus is breathtakingly gorgeous and there are so many places to walk while waiting for experiments to be done. And Durham? It has something for everyone—downtown is close to campus, with a lot of great restaurants. A nature lover, Bach also likes that Durham is close to both the beaches and the mountains and that it's a short drive for a hike in Duke Forest.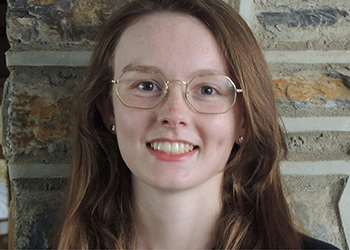 Ruth Parsons
Ruth Parsons came to Duke from NC State University, where she double majored in Spanish and biochemistry. For her undergraduate research, she studied microbiology and microbial pathogenesis, specifically Clostridioides difficile metabolism and colonization by measuring gene expression levels upon C difficile infection. During an NSF-funded program at Vanderbilt University, she became interested in understanding how proteins work at an atomic level and gained experience in recombinant protein expression, purification, and protein crystallography. 
 
Between her undergraduate and graduate schooling, Ruth worked at the National Institute of Environmental Health Sciences (NIEHS) in the Structural Cell Biology Group. There, she worked to characterize the TCOF1 gene product, Treacle, a nucleolar protein involved in ribosome biogenesis and DNA repair, by using techniques including; site-directed mutagenesis, X-ray crystallography, and DNA binding assays.
 
Ruth loves Duke's collaborative environment, and she describes the department as "close-knit with fun social events." Like most young scientists, there are times she doesn't know the answer, but she feels comfortable asking advice from any professor in the department—students are allowed to learn without fear of making mistakes. Ruth's current areas of interest are computational protein design, protein interactions, structural biology, microbial pathogenesis, and cancer biology. She will use her Ph.D. training to become an independent scientist, contribute new knowledge to the field of biochemistry, and improve her critical thinking and science communication skills. 
 
When it comes to living in Durham, Ruth loves the local music, art, and food scene. She enjoys exploring the city's natural areas and finding new hiking trails. Another bonus of living in Durham—is its affordable cost of living.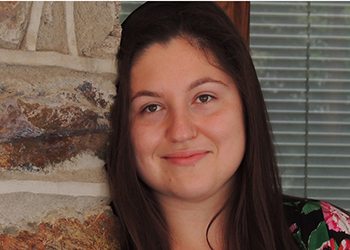 Kalina Tsolova
While at Princeton University, Kalina used binding assays, crystal screens, and circular dichroism to elucidate how the conformation of the SNARE Vam3 and its binding interactions with two subunits of the HOPS tethering complex affect efficient SNARE bundle assembly in the endolysosomal system.
One reason she decided on Duke is that the Biochemistry Department has a tradition of being "open-door" and the faculty, students, and staff are friendly and resourceful. Her second reason was that even though she has eclectic scientific interests, she's a mechanist at heart and her training will help her employ structural and biophysical methods to unravel interactions and molecular dynamics that affect human health and help her identify targets for therapeutic development.
Coming from Sofia, Bulgaria, with a population of 1.5 million, Kalina was drawn to Durham's urban side with its many entertainment venues and restaurants. If she wants to relax a little, her favorite spot, Duke Gardens, is a quick walk from the biochemistry building on West Campus.
2020 Matriculant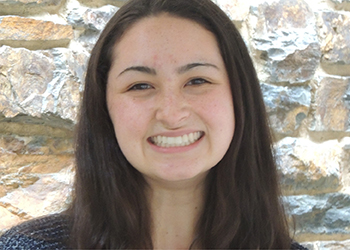 Emily Cannistraci
Emily received her undergraduate degree from the University of Maryland, Baltimore County, where she studied Biochemistry and Molecular Biology and had an interest in structural biology questions such as how protein-nucleic acid interactions increase viral infectivity. Things haven't changed much since starting her PhD. Similarly, she studies a protein involved in a very interesting parasitic RNA editing system called kRNA editing. This protein binds RNA and helps the parasites make the machinery that allows them to survive and thrive. During her time at Duke, Emily wants to learn a wide range of structural biology techniques, work towards getting some teaching experience, and ultimately a teaching certificate that would set her up to reach her long-term career goals. Emily is happy with her decision to attend Duke. She likes that the department is warm and welcoming and that people are willing to take time out of their busy schedules to help when needed. Plus, everyone is so friendly that it makes coming to lab enjoyable. It's been easy for Emily to build a life outside the department, taking advantage of campus groups including intramural sports teams and clubs. She also enjoys spending time on Duke's beautiful campus and checking out fun events, great food, and beautiful art museums in Durham.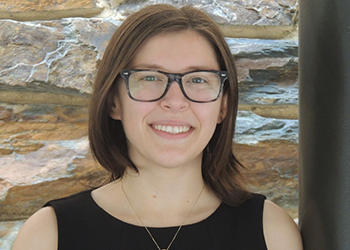 Alex Hofler
Alex came to Duke from SUNY Potsdam where she received her BS in Biochemistry and BA in Mathematics. There, her scientific research focused on investigating alternative roles of degradation proteins in the DNA damage response and mRNA processing. Changing course slightly, she is now interested in understanding how translation is regulated, particularly the localization of translation machinery and nascent peptides to the endoplasmic reticulum. The many classes Alex can choose from will teach her relevant information and skills to become an independent researcher who can communicate biochemical findings—particularly to stop the spread of misinformation.
Like most students who started their PhD in 2020, the pandemic made adjusting to graduate school a bit more challenging. But Alex found that even though she wasn't on campus as much, the biochemistry department worked hard to make her feel welcomed and supported.
As for living in Durham, Alex has never been disappointed by a single restaurant. She has also found plenty to do in the city and within an hour's drive—activities like hiking, sports games, breweries, museums, and more.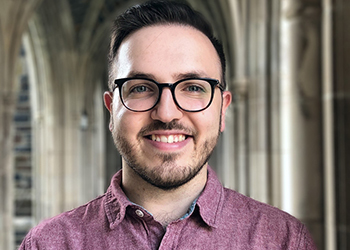 Marek Zorawski
For his undergraduate degree in chemistry, Marek went to Pomona College—the first of the Claremont Colleges in Southern California. As an undergrad, he studied chemical biology and non-coding RNA and will do the same as an MD/PhD (MSTP) student, but in relation to cancer. His goal is to push forward our understanding of the interplays between cancer and non-coding RNAs using chemical tools.
Marek is glad he chose Duke—it was the welcoming nature of the MD program that drew him in, and the Biochemistry Department has proven to be the same with its strong sense of collegiality. He also enjoys everyone's intellectual curiosity and that faculty and students alike ask probing questions—from the fundamental workings of biology to using that knowledge to help patients. He's excited to be around so many great minds that come together to help move mountains.
As for Durham, Marek thinks it has so much to offer—from its bustling downtown to scenic hiking spots, to top-of-the-line restaurants and fantastic coffee (he has subscribed to biweekly whole bean deliveries from a Durham favorite, Cocoa Cinnamon)—it really has it all. Durham has grown on him quite a lot in these last three years, and he's sure it will continue to do so in the years to come.
2019 Matriculants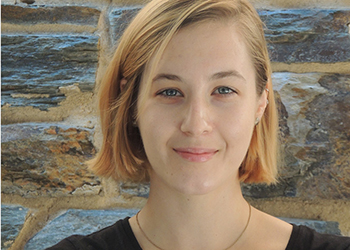 Grace Hooks
Durham is a little different than Las Cruces, New Mexico where Grace Hooks majored in biology and minored in biochemistry at New Mexico State University. As an undergraduate, she studied cancer biology and toxicology. Now as a PhD in Biochemistry student, she's focusing on protein structure and function and multi-drug resistance while expanding her experimental training and sharpening her scientific acumen. Grace's experience is that the Biochemistry Department is committed to taking care of its students. And beyond the amazing science being done in the labs, she finds the people kind and willing to provide help and support. To her, the Biochemistry Department feels like home.
Grace thinks Durham has a lot to discover—the city's many parks and hiking trails, the Sarah P. Duke Gardens, and its cool downtown with wonderful restaurants. But what she really likes most about Durham is that it's pet-friendly.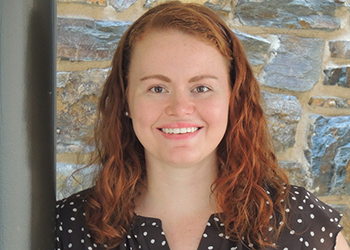 Carly Sciandra
At the University of Maryland, Baltimore County, Carly majored in biology and minored in Chemistry. Her undergraduate research studied the structure of the HIV-1 RNA 5'UTR and the dynamics of the Gag polyprotein using Nuclear Magnetic Resonance. Now at Duke, she is researching the function of small molecules to inhibit DNA repair pathways during chemoresistance in cancer cells. She also wants to formulate more thought-provoking questions in her personal research and weekly seminars and learn to communicate her research in any setting.
Carly loves Duke's sense of community and the opportunities she has for collaboration and research growth with other departments at Duke, companies in nearby Research Triangle Park, and UNC and NC State. She finds the biochemistry department is especially close and feels comfortable asking professors and students for help. There really is an overall feeling within the department that everyone should succeed.
Being a biochemistry graduate student, it's no surprise Carly appreciates Durham's lower cost of living, the plethora of great local breweries and restaurants, and access to a variety of outdoor activities. She can cycle year-round, as well as hike, kayak, and play disc golf all within 20 minutes of her apartment. She loves Durham's central location, with the airport being just 20 minutes away, the beaches within a two-hour drive, and the mountains within three.
2018 Matriculants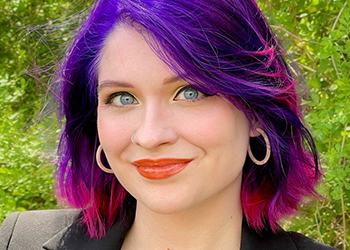 Skyler Cochrane
Skyler Cochrane came to Duke from Rhodes College in Memphis, where she studied synthetic organic chemistry with a focus on drug development. Her work involved the synthesis of dopaminergic derivates to investigate the specificity and activity of SULT1A3, a sulfotransferase that processes dopamine in the body. She's now working in the Zhou Lab and takes a chemical/structural biology approach to try and understand the mechanisms of Lipid A biosynthesis and, consequently, how to target therapeutics to treat gram-negative infections.
Skyler's motivation to become a scientist is rooted in her desire to give back and make a difference in the world. She knows that by attending Duke, she will gain the skills and techniques necessary to become a better chemist and biochemist, and a more well-rounded scientist. She believes scientific discovery and medical-based research are the paths to accomplishing these goals. And even if she's not the one to, let's say, find the cure for cancer, she hopes others will be inspired to build on her research to find it themselves.
Skyler loves that Duke, and especially its science departments, encourage collaborations. This ethos goes hand-in-hand with her belief that the best, most complete scientific narratives and discoveries can only happen when researchers are willing to look outside of their own specialty. Thus, she's been able to work closely with a variety of chemistry faculty who, because of their different lab and life experiences, can solve problems in ways she wouldn't think of.
Coming from Memphis, Skyler has had to adjust to life in a smaller city, but does love the dichotomy of Durham. When it comes to day-to-day life, it can feel very quiet, but if you know where to look, you can find a bustling community with tons of activities, concerts, and art. Plus, she doesn't have to go far to find amazing food, local breweries, and thrift stores!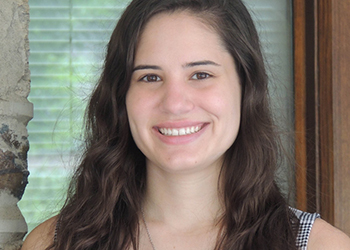 Sarah Ermatinger
As a biochemistry undergraduate at NC State, Sarah Ermatinger focused on predicting phenotypes from genotypes in Dr. Seth Faith's forensic science lab. During summers, she continued her lab work and analyzed virulence factors of pathogenic bacteria at the Research Triangle Institute in Dr. Cavanagh's microbiology lab.
She came to get her Biochemistry PhD at Duke right out of undergrad, and now working in the Oas Lab, focuses on Staphyloccoccus aureus biofilm infections and evaluating their mechanisms. Sarah's long-term goals are to contribute to how S. aureus biofilms are formed and to build a wide network with other scientists in her field.
Most importantly, Sarah feels the department provides a wealth of support for everyone's research and success and fosters a real sense of community. Its small size allows students and faculty to get to know one another, especially during biochemistry social gatherings (during non-COVID times). Outside the department, there are Duke groups that connect students across the university.
Sarah has taken advantage of living in Durham. She enjoys the calm downtown bar scene and can drive 30 minutes to Raleigh or Chapel Hill if she wants something a bit rowdier. Being someone who likes the outdoors, Sarah has also discovered lakes and bike trails in and outside the city.  But when she wants to get away from the pressures of school, Durham is an easy drive to the beaches of Wilmington and mountains of Ashville.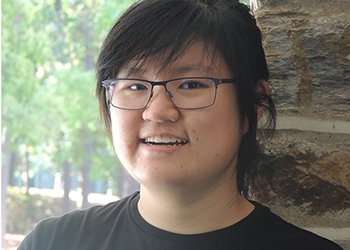 Stephanie Gu
Stephanie Gu came from Caltech, where she studied chemical engineering, specifically DNA's non-biological properties and their ability to be leveraged for cancer detection. At Duke, she wants to obtain a predictive understanding of DNA dynamics and DNA replication, which is a crucial property in cell division.
Stephanie has become quite comfortable in the biochemistry department where she takes advantage of the highly collaborative environment and feels that everyone is open and available for discussion. She does research in the Al-Hashimi Lab, which doesn't have expertise in proteins. But Stephanie wants to understand DNA dynamics in the context of polymerases—proteins that make sure DNA replicates. With the department's open-door policy and the close proximity of the labs, she is solving problems with help from another PI, Maria Schumacher, who has experience in protein-DNA complexes. There, Stephanie's most basic questions are discussed, such as when to induce protein expression, while Maria ensures she firmly grasps the concepts.
Now that Stephanie has been on the east coast for a while, she's taken a liking to Durham. After 22 years in Los Angeles, she finds that Durham has a better cost of living, is quieter, has less traffic, and cleaner air. She also thinks the food can be just as good when you know where to look. And location-wise, Durham is pretty central—the mountains, the ocean, and other states are only a few hours drive, making it easy to get out and have fun whenever she has time.
2017 Matriculants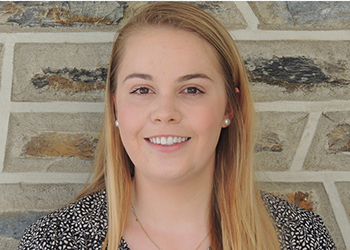 Catherine Ehrhart​
Catherine received her Bachelor of Science in Chemistry and Biochemistry at Old Dominion University as well as her Master of Arts in Chemistry with a concentration in Biological Chemistry at the University of Virginia. As an undergraduate, she studied the effects of binding an inhibitor to a human rhinovirus' protease using Nuclear Magnetic Resonance in a structural biology lab. As a Master's candidate, she furthered her interest in thermodynamics and broadened her structural biology skills in a crystallography lab.
She is now working towards a PhD in biophysics and structural biology, with an interest in computational protein redesign. She joined the Donald Lab because of the opportunity to learn both computational biology skills and the third main structural biology technique—Cryo-EM. She is currently studying the binding mechanism of broadly neutralizing antibodies (bnAbs) to the membrane proximal external region (MPER) of the HIV-1 glycoprotein 41.
Catherine thinks Duke's Biochemistry department is a great fit for her, considering the number and diversity of structural biology laboratories. It will also help her achieve her long-term goals—to acquire new biophysical skills and specialize in the fields of HIV and cryo-EM research while collaborating with world experts. Duke and the department also foster a collaborative environment, and she has no doubt that while here, she will have many valuable opportunities to network and prepare herself to work in industry after graduation.
She thinks Durham is a great place to live—there is always something interesting to do, and it's not expensive or crowded! There are many young professionals moving to the area, and there are direct flights to Paris when she returns home. Plus, as a hiking and scuba diving enthusiast, she's always less than 2 hours away from her next outdoor adventure.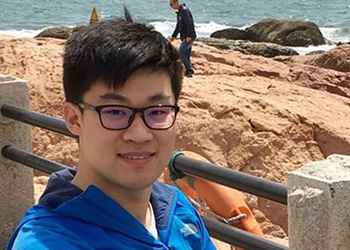 Yuze Hou
In Yuze's first year, he's rotating through 3 labs to expose himself to different fields in biochemistry. He'll eventually choose one to do his research, but right now, his goal is to work hard and learn new techniques, analytical methods, and interdisciplinary research.
Yuze came from the prestigious Peking University in Beijing, having majored in pharmaceutical sciences. He thinks Duke is a good fit because there are people from all over the world. About the program—he finds everyone is friendly. There is happy hour every Friday where he can socialize with different labs and sometimes with famous scientists that come discuss their research.
He likes Durham—it's the antithesis of Beijing's urban jungle. It's quiet, with beautiful scenery and fresh air—plus Yuze thinks the food is pretty delicious.