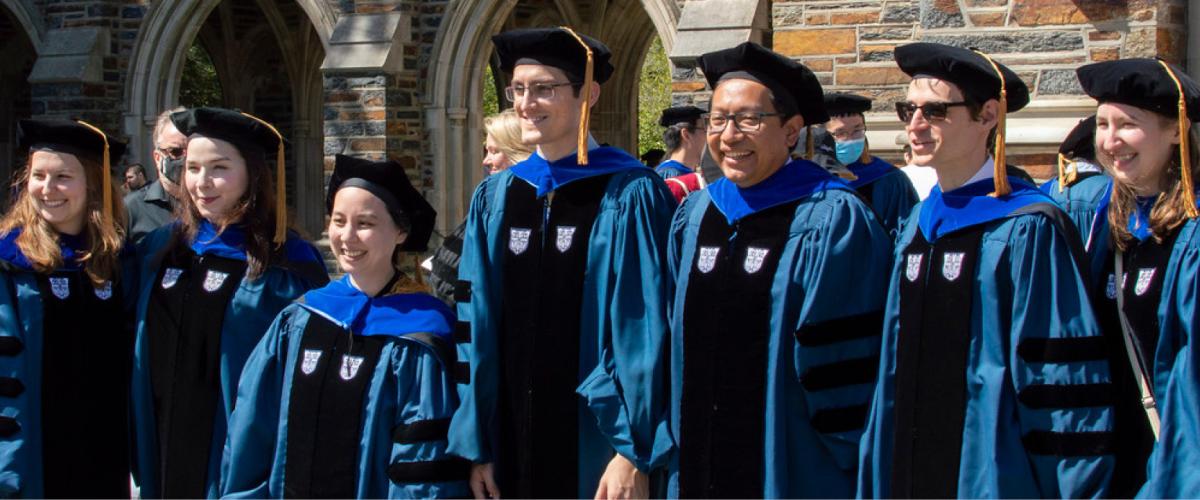 Preparing You for Your Next Transition
To get you career-ready, the Graduate School offers a full-spectrum of professional development programs. By your third year, you'll be considering your career objectives and building out a practical Individual Development Plan (IDP) to:
Assess your areas of interest, skills, and competencies
Develop short- and long-term training and career goals
Identify mentoring and professional development resources in and around Duke
Career Resources
Discover key programs that will prepare you for a career in or outside academia.
Professional Development Series
Our Professional Development Series Includes talks, workshops, panels, and events to help you identify and develop transferable skills for a career in academia, industry, government, nonprofit, and entrepreneurship. Some topics include:
Building core competencies such as time management, leveraging the mentor relationship, and preparing for a corporate job.
Investigating career paths beyond academia.
Searching for an academic position.
Preparing presentations that appeal to specific audiences.
Workshops
College Teaching Workshops: If you're interested in a teaching position, you'll hear faculty offer teaching tips, discuss career paths and faculty life, and how to engage with students.
Preparing Future Faculty (PFF): You can apply for one of ~30 competitive slots in this year-long program. As a PFF fellow you'll work with a mentor, learn about critical issues in academia, and train for the multiple roles you'll take on as a faculty member.
Professional Development Grant
The Graduate School funds up to $2,000 to help students and departments with professional development programming. Activities include the development of transferable skills relevant to a range of careers, and not just limited to the tenure-track path. 
Courses
Certificate in College Teaching: With this comprehensive course in pedagogical preparation, you'll be more competitive when applying for faculty positions. Look over the Courses in College Teaching which make up part of the Certificate in College Training curriculum and address topics on:
Fundamentals of college teaching
Course design
Visual communications
Online teaching
Student diversity
Careers in higher education
Upon certificate completion, the teaching credential will appear on your final transcript.
Teacher Training
Bass Instructional Fellowship Program: Gives you teaching experience as an instructor of record, teaching assistant, or online apprentice.
Leadership Training
Emerging Leaders Institute: Through a competitive application process, you can earn a spot in a 6-week intensive program where you'll develop your communication skills; take self-awareness training; and learn about professional adaptability, teamwork, and leadership.
Interview Readiness
With demonstrated financial need, the Graduate School provides up to $250 per student for the future purchase of professional or interview attire.
Professional Development Blog: The professional development blog lets you listen in on alumni and students as they discuss their career journeys. Students can also become part of the conversation by interviewing and writing blog posts.
Online Resources
Research shows that engaging in professional development can speed your time to degree. To help, we built Duke OPTIONS, a tool that lets you create roadmaps from the beginning to the end of your program and find the right resources at important stages in your training—at year 1, years 2-4, and years 5+. You can preview the tool here.
Check out some of our other online resources that include an introduction to LinkedIn, recordings from past events, and the Versatile PhD Career Finder tool. 
Postdoctoral Services
The Office of Postdoctoral Services is a central resource for postdoctoral appointees and serves as a liaison between postdocs, faculty, administrators, and staff. It provides services such as orientation seminars, career development programs, exit surveys, and prepares Duke postdocs for successful careers.
Career Outcomes
Our graduates hold positions in biotech, pharma, consulting, government, and academia among others. Take a look at where our people are working. If you're looking for more in-depth statistics visit the statistics section on the graduate school website.