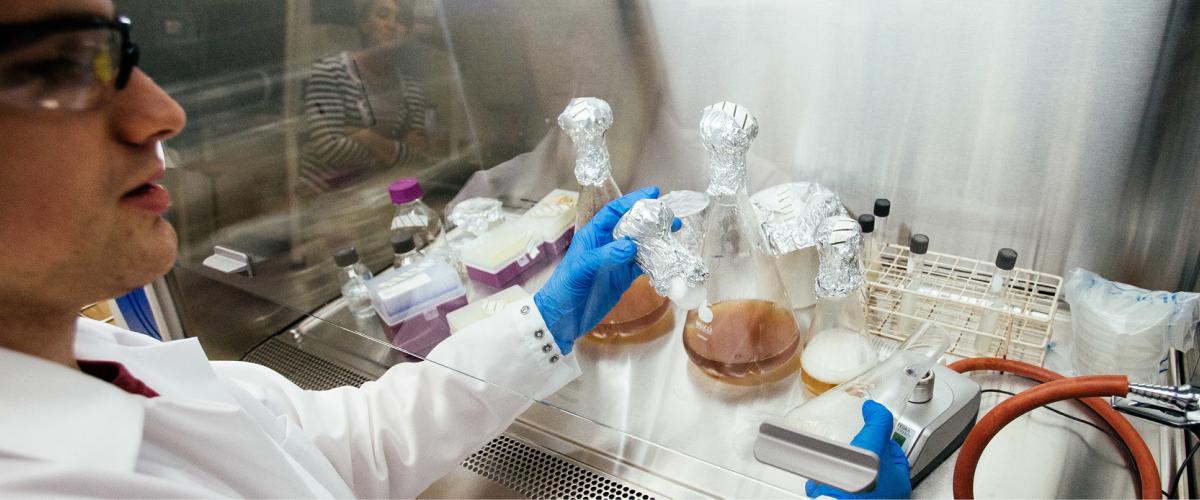 The application deadline for Fall 2023 is November 30, 2023. Please apply here. Please sign up to receive information about our biochemistry program and follow us on Twitter. 
 Qualified applicants will have strong undergraduate training in the chemical and/or biological sciences. All applications and related material are received by the Graduate School and complete applications are reviewed by the Biochemistry Admissions Committee, which is composed of departmental faculty members.
Interviews
Select applicants will be invited to virtually interview with faculty and be able to meet with current students during online events. There will be on-campus visits scheduled for January or February (because of COVID this is subject to change).
Application Refund
We are fully committed to having as diverse a community as possible at Duke Biochemistry. The Graduate School offers fee waivers to qualifying students with US citizenship or permanent residence. If students have been denied the fee waiver, the Department of Biochemistry will consider refunding the $95 application fee for prospective students who contribute to the diversity of the department, are members of specified organizations, or show exceptional need. To be considered for a fee refund, you must fulfill the following requirements:
For students who are not eligible for the Graduate School fee waiver (e.g. international students), please contact the DGSA. The department will consider fee waivers based on applicant needs and available funds. Applicants who contacted us before November 1st will be prioritized. 
Application Quick List
Completed Application (Required)

Transcripts including GPA
3 Letters of Recommendation
Statement of Purpose
Resume  (Strongly recommended, but not required)
 

The Graduate Record Examination General Test (GRE) is optional. We consider the applicants holistically, including their experience, academic record, and recommendations.  
Subject Tests in Biochemistry, Biology, Chemistry, or Cell & Molecular Biology are optional.
Official TOEFL scores (Required for International Students, but may be waived)
Note: Students seeking admission to the PhD in Biochemistry must apply to the Graduate School of Duke University. Before you begin, please read the entire Admissions website carefully, as it gives you further information on your requirements. Pay close attention to the Application Instructions—it's a "checklist" for mandatory materials and provides answers to frequently asked questions. 
For more information about the application process, please read our frequently asked questions below or if you'd like to speak with someone directly contact:
Director of Graduate Studies (DGSA)
251 Nanaline H Duke
Box 3711, DUMC
Durham NC  27710
919.681.8770
bgs@biochem.duke.edu
"Rigorous yet welcoming perfectly summed up my first impression of Duke's biochemistry program. But I chose to matriculate because of the collective efforts to help each student become a future scientist. The values incorporated into the program—critical thinking, a growth mindset, a passion for discovery—have challenged and encouraged me to reach my potential, alongside like-minded fellow candidates. 

—Duc Huynh, 2018 Matriculant
Application FAQs
You must apply through the Graduate School's online application service. The Department of Biochemistry can review and make an admissions decision based on your scanned unofficial transcript, electronic letters of recommendation, self-reported GRE (optional) and TOEFL scores while we wait for the Educational Testing Service (ETS) to submit your official scores to Duke University. If you have admissions-related questions, contact The Graduate School or Peggy Wilkison in the Biochemistry Graduate Student Office.
Submit them through the Graduate School's online application service. Supporting application materials that cannot be uploaded must be sent directly to the Graduate School (NOT to the department), at the following address:
Duke University Graduate School
Office of Admission
2127 Campus Drive
Durham, NC
27708-0065 USA 
*Please do NOT mail any of your application materials to the department. We cannot guarantee they will be included in your review for admission.
The application deadline is November 30, 2023.
The Department of Biochemistry offers fall admission only.
The Biochemistry Admissions Committee takes many factors into account when considering applications. The most important are your:
Research experience (at least one semester of independent research is recommended)
Academic rigor
Letters of recommendation (at least one from a research mentor)
Personal statement
Your achievements within your undergraduate program and optional GRE scores provide a useful tool to evaluate the difficulty of your curriculum compared with those of others across the nation and around the world. You can view our Admissions and Enrolment Statistics from students who have matriculated in past years.
Although not required, you can submit a GRE subject test in Biochemistry, Cell & Molecular Biology, Biology, or Chemistry. 
Please note: Your optional GRE scores must not be more than five years old from July 1 of the application year. An official copy of your GRE scores must be sent to the Graduate School directly from the ETS. The institution code for Duke is 5156 and a department code is not needed. If the ETS requires you to enter a department code, select any one of the department codes listed on their site. Regardless of the department code entered, the scores will come to the Graduate School and be routed to the department indicated on your application. 
Yes. You should submit your application as soon as you have:
Completed each section
Sent recommendation requests
Asked that the ETS send your TOEFL, if required, or optional GRE scores to Duke.
After you submit your application, the Graduate Admissions Office can add your recommendation letters and official test scores as they are received. 
Please note: While it is fine for recommendations and official test scores to arrive after you submit your application, we must receive them by or before the application deadline for review purposes.
We only have a limited number of slots for international students, therefore admission can be especially competitive. International students are strongly encouraged to carefully consider their research experience, English skills (spoken and written), and commitment to biochemistry before submitting an application. Select international applicants will be interviewed virtually.
The Graduate School requires all international applications, whose native language is not English, to submit the results of an English language proficiency test (TOEFL or IELTS). Your score must not be more than two years old from July 1 of the application year. Study in the U.S. does not exempt you from reporting this score however, you may request a waiver at the time you submit your application if you have studied or worked in an English-speaking country and feel that your English skills are strong. 
Please note that no action is taken on waiver requests until all application materials have been received and we have evaluated a review of your English skills.
Financial aid for graduate school is not based on financial need but on the academic strength of your candidacy. Therefore, no proof of financial need is required to apply although you must indicate "YES" on the financial aid section of the online application. It is our practice to work with the Graduate School to ensure that you will be financially supported for at least six consecutive academic years, provided that you continue satisfactory progress in our program. As a member of an outstanding graduate community, we also strongly encourage you to apply for other institutional and outside fellowships. These awards will add distinction to your graduate record and enhance our ability to support additional highly qualified students in Duke's graduate programs.