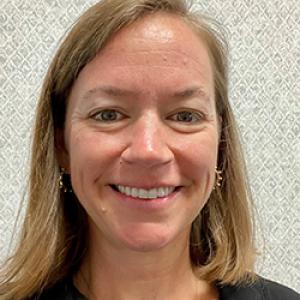 Site Quality Head for Merck Vaccines Manufacturing
Education:
PhD in Biochemistry
Duke University '09
Advisor: Pei Zhou
B.S. Chemistry
University of the South
Career
My team at Merck is responsible for the quality oversight of vaccine manufacturing and performs analytical quality control testing of incoming material and manufactured products.
In graduate school, I loved the research and laboratory environment but recognized that I didn't have the passion for constant grant writing, developing and maintaining research programs, or teaching. So my first job after Duke was as a postdoc with Stanford Research Institute in Virginia, which is more of a hybrid organization between academia/industry and a good transitional role to industry. We weren't associated with an academic institution but similarly had to write grants and publish our research.
After two years as a postdoc, I took a job at Merck in Virginia and have been with them in various locations and positions for ~11 years. I started out in the technology team supporting vaccine and biologics process development and have had a variety of roles including technology and quality assurance within vaccine manufacturing. I have worked at 3 different US-based sites—in Virginia, North Carolina, and Pennsylvania—and have traveled and partnered with other manufacturing sites and people all over the world.
Interest in Science
I was always analytical and excelled in math, so in junior high, I was placed in an accelerated math program and took AP courses in high school. I then attended a small liberal arts college that didn't have a biochemistry major, so I majored in chemistry and took what biochemistry courses they offered. 
After earning my undergraduate degree, I applied for a PhD in Chemistry. Coming to the conclusion that I was more interested in biochemistry and its relevance to human health, I waited two years and reapplied. My gap years allowed me to think of the kind of graduate program I wanted to attend, where I wanted to live, and what was important to me. I realized Durham was the perfect city, Duke was the right-sized school, the biochemistry program was among the top in the country, and I liked that it was associated with the medical school and the university. It was an easy decision to attend Duke.
Why Duke?
Duke provides an exceptional graduate-level research and scientific program, where students take classes and in their first year rotate through at least three labs and make their final selection.
The Biochemistry program is associated with the University and Medical School, which provides a strong connection between basic sciences, liberal arts, applied science, and the hospital. Every day at Merck, I use my degree and the problem-solving skills I learned. On the scientific side, we manufacture and test vaccines—which rely on knowing biochemical processes. Vaccine manufacturing involves large-scale biological processes, which is similar to what I did on a small scale in my PhD lab (over-expressing and purifying proteins). And in graduate school, we used a variety of analytical tools to characterize proteins comparable to what we use in quality control testing for vaccines. 
I also use the leadership and soft skills I learned at Duke. My lab was diverse and dynamic with a program that changed as new people came and went. Sometimes It was difficult being from different backgrounds and working on different projects, but we found ways to work towards a common goal, solve problems, and laugh during long hours together.
Finally, I learned to design my own experiments and effectively communicate my research to my peers—invaluable skills that I use daily at Merck. Not only did Pei Zhou, my graduate school advisor, let me build my own project, he encouraged me to attend and present at conferences where I networked and developed relationships with other labs that still exist to this day. 
My Current Challenges
I love my job supporting vaccine manufacturing—I collaborate with a talented team at Merck and have been able to leverage my scientific background and do meaningful work that benefits patients all over the world—but it has some challenges. Historically, it's taken years to bring a vaccine to market. But when COVID-19 hit, the pharmaceutical industry was forced to accelerate the process and work together to bring vaccines to market in a way that is compliant and safe. Essentially, we had to work smarter and more creatively, overcome supply chain issues, and persevere to make it happen—but the industry did it! This experience has changed the way pharmaceuticals will be manufactured moving forward and I'm excited to be a part of it.
The pandemic also challenged how we manage our organizations. The new hybrid workplace looks different from pre-pandemic and allows for flexibility that aligns with an employee's preferences and needs.  
My Impact
I am honored to support the supply of high-quality vaccines to patients all over the world. Vaccines have a global impact on human health and well-being and every day I help improve the lives of millions of people which makes it easy to get out of bed!
Also, as a leader and manager of my current organization, I like having a positive impact on the lives of my 700 employees. Specifically, I enjoy supporting their work, development, and well-being; showing my appreciation for their hard work; creating a safe and collaborative work environment; and stepping in when someone needs help. I also enjoy contributing to Merck's focus on diversity and inclusion and ensuring that all people are supported and celebrated.
Career Five to Ten-Years Out
I think I'll still be working in the pharmaceutical industry—using science to improve human health and working across different functions with talented and diverse people to solve new problems.
The Alumni Network
I stay connected with my Duke colleagues and my PhD advisor and at seminars have shared my experience and offered career advice to current graduate students, especially those interested in the pharmaceutical industry.
Advice for Prospective Students
Take advantage of the graduate program and the opportunities it presents. You're guaranteed to do cutting-edge research but if you focus solely on that, there is a missed opportunity. Attend as many seminars and conferences as possible; learn the soft skills including problem-solving, collaboration, and communication; and open your mind to various post-graduate school pathways. The skillset you gain will be very broad and you don't know how the world will look in 5 or even 25 years, so be open-minded to different career opportunities.