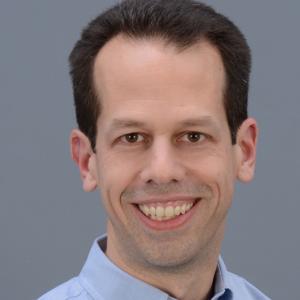 Research Computing Environment Lead, Bayer Crop Science
Education:
PhD in Biochemistry '06
Advisor: Jane and Dave Richardson
BA in Molecular Biology
Vanderbilt University, '01 
Since 2009, Ian had led teams of computational scientists in agricultural biotechnology R&D companies, working on problems including regulation of gene expression, trait gene discovery, and image-based phenotyping.
Interest in Science
Most interests start at home and I was fascinated when my father, a biology major in college, would point out scientific observations to us kids. Also, while defending my dissertation, I discovered I had an early interest in science when my mother resurrected my kindergarten "All About Me" page. It asked what I wanted to be when I grew up, and I filled in scientist. Obviously, in between kindergarten and my PhD, I had other thoughts on my career, but it seems I came full circle. 
Job at Bayer
I work in Plant Biology R&D with computational biologists. My team ensures our computer infrastructure is working properly and meets the needs of our scientists. We also act as a bridge or translator between the IT and scientific teams and take research prototype software to a large-scale implementation with which you can run a business. 
My career has been focused on the computational side because during my PhD I studied in The Richardson's "dry lab" that does data analysis rather than data generation. 
The Road to Duke
I grew up outside Charlotte, North Carolina, and was first exposed to Duke while in middle school through their Talent Identification Program. From early on, I had a high opinion of the university, and of course, living in North Carolina, Duke is very visible.
When I was looking into grad school, I applied to top-tier programs up and down the east coast. But there were a few things that impressed me about Duke—the faculty research was exciting while the professors showed a genuine interest in their students and engaged them in their research. Duke students also seemed happier and more fulfilled than at some other institutions where you sensed their PhD was more of a grind. And I saw Duke could provide a work-life balance, which I didn't see at other schools of similar caliber.
Duke and Biochemistry Career Prep
I always wanted to go into industry, and in my experience, I was well-prepared to go straight from my PhD. But I chose to further my training, taking a two-year postdoc with Dr. David Baker at the University of Washington in Seattle. When I finished my training, I returned to Durham and joined a startup, GrassRoots Biotechnology, as employee 6 or 7. Grassroots was founded by Dr. Philip Benfey, a Duke Biology Professor I was introduced to through one of my dissertation mentors, Dr. Terry Oas. We spent four and a half years partnering with Monsanto, regulating gene expression in plants, until Monsanto bought us out, and I took a position with them in RTP. In 2015, I moved to St. Louis to lead a team of computational biologists and in 2018, I took my current role, shortly before Monsanto announced it would become part of Bayer Crop Science.
Advice for Prospective Students
 First, it's important to get exposed to the full array of career possibilities because the typical replacement rate for professors is one for one. I think it's good to seriously consider industry because interesting science is also being done outside academic institutions.
Second, during your PhD you'll study a smaller and smaller thing in greater and greater detail until you're the world's expert. It's important to have this experience, but don't get too fixated on it. Realize that you'll probably change systems several times during your career. 
Finally, take advantage of strengthening your soft skills because that will have lasting value. Take a writing class, and practice presenting and communicating your science. You'll go far if you can write well, especially if you can distill your research for people outside your field.