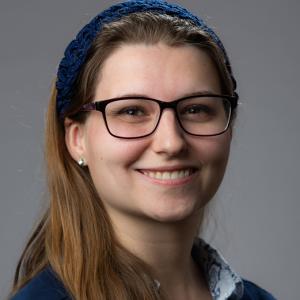 Postdoctoral Associate, Princeton University
Postdoctoral Associate
Princeton University
Education:
Ph.D. in Biochemistry
Duke University '21
Advisor: Dick Brennan
B.S. in Chemistry & Biology
Florida Southern College
Grace started her postdoc training in the lab of Dr. Bonnie Bassler at Princeton University.
Involvement in STEM
Early on, I always had an interest in science, but it wasn't until my freshman year in college that I realized it would be my career path. I became involved in the American Chemical Society Chapter at my alma mater which brought me to the ACS national meeting and my first window into the scientific research world. I decided to dual major in chemistry and biology. My first research experience focused on synthesizing metal organic materials. As a biology major, I had the opportunity to conduct senior research on the effects of high sugar and salt concentrations on mammalian cell cultures.
On Choosing Duke
My first exposure to Duke was during an undergraduate summer research program (SROP) when I spent ten weeks working in the genetics department. I experienced Duke's welcoming community, especially the faculty, and fell in love with the campus. Deciding to come to Duke for my PhD, felt like I was coming home.
The Postdoc
I chose to do a Postdoc because I wanted to branch out from my PhD research. In Dr. Brennan's lab, I received a solid foundation in structural biology. Now, in Dr. Bonnie Bassler's microbial genetics lab at Princeton, I'm learning new techniques and tools to answer different questions. I'll come out with a more versatile tool kit for a career in scientific research.
Typical Day as a Postdoc
In many ways, it's similar to my last years in grad school when I focused solely on my research. However, it's different in that I'm more independent and guiding my research. Dr. Brennan's mentoring and working in his lab prepared me for my postdoctoral experience.
Long-Term Goals
I want to secure a tenure-track faculty position and incorporate both structural biology and genetics into my research program. Currently, I'm looking at how bacteria communicate and interact with one another and how that interaction is hijacked by a bacteria phage. When I finish my postdoc, I'll have a multi-faceted approach to study how microbes work in groups and respond to stressors.
Career Preparation
Duke Biochemistry focuses on teaching specific biophysical techniques in structural biology and biochemistry that are sought after in academia and industry. Having a strong foundation in structural biology prepares PhD students for a breadth of careers.
Advice for Prospective Students
I have three pieces of advice. First, take advantage of the department's diversity of research and break out of your comfort zone, because you might unexpectedly find a new niche. Second, use the career resources through the department and the Graduate School. You'll find career workshops and seminars that focus on various career paths and help you find the best fit. And three, build a career strategy early. The professional development courses are general enough that you can take advantage of them in the first years. You won't want to wait until you're close to graduation because demands are greatest then.