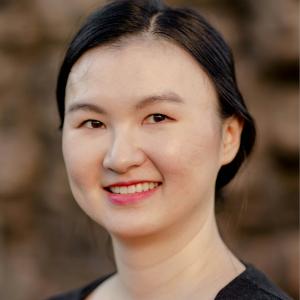 Program Manager, Battelle Memorial Institute
Education:
PhD in Biochemistry
Duke University 
Advisors: Pei Zhou, Christian Raetz
B.S. in Biochemistry
University of Michigan–Ann Arbor
Daina is a Program Manager at Battelle Memorial Institute, a government contractor and CRO (contract research organization) based in Columbus, Ohio. She helps agencies like the Department of Defense, Defense Threat Reduction Agency, Biomedical Advanced Research and Development Authority, and National Institute of Health develop medical therapeutics for potential biological and chemical warfare agents.
Working in the Lab
I was a joint student in Professor Pei Zhou and Christian Raetz laboratories working on characterizing LpxC inhibitors and studying potential mechanisms of resistance to these inhibitors. LpxC is a novel target for the development of broad-spectrum antibiotics against gram-negative bacteria. My main program was characterizing resistant mutants, with a second project in which I helped characterize novel LpxC inhibitors designed using structural biochemistry (i.e., NMR and X-ray crystallography structures). I am very grateful for my time at Duke and the invaluable mentorship and training I received.
Road to biochemistry
From a young age, science was always my favorite subject. In high school, I read "Zen and the Art of Motorcycle Maintenance," one of my favorite books! It mentions that the scientific method involves testing hypotheses, although scientists can narrow down the most likely using their judgment, experience, and sometimes "gut feeling" (as there are an infinite number of alternative hypotheses that would take a long time to test). I was in awe of scientists who could do this, and I wanted to figure out a way to reasonably deduce, before testing, which hypothesis to pursue first.
As an undergraduate at the University of Michigan, I chose to study biochemistry because I liked biology and chemistry, and the major had requirements in both subjects (this is the high schooler in me knowing nothing about biochemistry). Because I was required to do an honors thesis, I worked in Professor Carol Fierke's lab researching RNAseP, a common enzyme ubiquitous in bacteria. I characterized the kinetics of a reaction, monitored and measured the reaction, and developed a high throughput assay making it easier to screen potential inhibitor libraries. I also worked closely with a postdoc who was very influential in my career and taught me what biochemistry is, how to be a scientist, how to do hands-on research, and most importantly, how to narrow a hypothesis down by using my previous experience and knowledge.
On Choosing Duke
Duke was on my list of places to apply—it was recommended to me and was well-ranked. When I came to visit, the weather was gorgeous, it was 70 degrees outside, and I was impressed by the faculty and the student involvement in the recruiting process. I was greeted at the airport by a student, then over the weekend, we were shown around Durham, taken to dinner, and visited students' homes and apartments. I was impressed by how tight-knit their community was—it felt like home.
First Job Out of Grad School
My first job was as a bench scientist with Agile Sciences--a start-up spun out of NC State. They were developing a platform of small molecule inhibitors of bacterial signaling as novel therapeutics for human health, agriculture, and industrial health. Eventually, I moved into management as their Director of R&D. From Agile Sciences, I was recruited by Arrevus to work on orphan indications and anti-infective therapies as their Senior Director and later VP of R&D. When Arrevus was acquired in 2021, I made my exit.
My Impact
When starting my job search, I received some advice that I've taken to heart—in your career, you will switch positions, but your network stays with you. So when I go to a new workplace, I try to meet people and mentor them—especially junior scientists or those who work adjacent to me. I want this to be my impact.
Early in my education, other scientists mentored me and challenged me to be better. I asked what I could do to repay them, and they said to pass it on. So I have a huge debt to repay and am slowly chipping away at it.
Advice for Prospective Students
Science doesn't work out most of the time, but please keep yourself in the game, continue trying, be kind to yourself, and do not judge yourself by your results. Your career is a marathon, not a sprint, and it will go through many stages (including some rough patches) —you'll have ample opportunities to apply what you've learned.
Unlike most, I was fortunate to have worked on fairly linear programs. In graduate school, my first years were a learning process that came together in the last. Although I've had successes, I believe that with a lot of science, there is an element of luck. If things don't work out, it's not a reflection of your skill, talent, or worth.
Biotech has a very high failure rate, particularly compared to other industries. For example, a very talented friend worked at a well-respected company valued at a billion dollars. They didn't get the decision they had hoped for from the FDA—the company went under, and she lost her job. It was heartbreaking to see how she had poured her heart and soul into her work nearly 24/7 for five years. Plus, the fact that she was talented and exceptional didn't matter in the end—sometimes it's how things go in life. In the end, she took the skills she gained and, a year later, moved on to a great job.