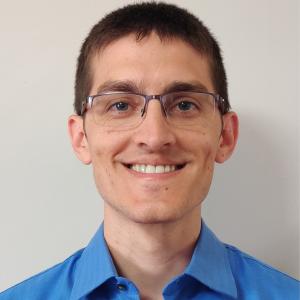 Assistant Teaching Professor, Drexel University
Education:
PhD in Biochemistry
Duke University '20
Advisor: Mike Boyce
BS, Physiology and Developmental Biology
Brigham Young University
Route to Graduate School
My situation was different than most. I graduated from Brigham Young University and went directly to Wake Forest Medical School. In my third year, I started to re-evaluate my career choice and with much introspection, figured out my passion was in teaching, especially "evidence-based teaching approaches." Evidence-based teaching is very different from conventional lecturing. Traditionally, when learning organic chemistry, students memorize reactions: let's say, 10 reactions (with their exceptions), take a quiz, and memorize ten more. The evidence-based teaching approach I experienced as a student, focused on specific learning objectives—like how atoms interact with each other—so I could ultimately predict any reaction. After learning this way, I aced a required national chemistry exam and give all the credit to the way I was taught.
Why Duke?
I applied to Duke not only because of their high-caliber research but also because the Graduate School offered a certificate in college teaching (CCT) where I'd get on-the-job training. I became an Adjunct Professor at Durham Tech and taught Intro Bio and focused my classes on active learning. My students were (willing) guinea pigs for my first attempts at techniques like think-pair-share, case studies, and jigsaw activities. I still had to fulfill my research requirements in the lab, but I would have the best of both worlds—strong training in biochemistry as well as the science of pedagogy.
Currently, there is a teaching gap. We have PhDs in Education unprepared to teach science and people with PhDs in science without any teaching experience. We need more experts in their fields who can teach STEM classes in a way that resonates with students. STEM students have very high attrition rates, and training teachers who are subject matter experts could slow it down.
First Job Out of Graduate School
I went to Drexel University for a teaching postdoc where I spent 50% of my time teaching and 50% doing STEM education and pedagogy research. Drexel then hired me as an Assistant Teaching Professor and I'm continuing to develop active learning strategies and implement evidence-based approaches to teaching biology. I am quite fortunate to teach a discovery-based lab designed and supported by HHMI: SEA PHAGES. In their very first college term, my freshman students isolate a novel virus (bacteria phage), give it a name, and work towards sequencing its genome. The data they generate is ultimately submitted to GenBank and other online scientific repositories and provides an opportunity for publication. These students are performing legitimate science while learning the same bench skills taught in more traditional labs.
The Boyce Lab Influence
Mike Boyce is a brilliant scientist and an incredible mentor who wants everyone in his lab to succeed—whatever their career path. He helps his students reach a high level of performance and personalizes his mentorship based on the strengths or needs of his students. He devotes an incredible amount of time providing feedback on experimental hiccups, student presentations and papers, and professional development goals. Mike has the gift of holding his students to a high standard without coming across as adversarial. He is approachable, funny, and absurdly smart. 
The Alumni Network
I didn't use the larger Duke network but started with Mike. He connected me with a colleague at Drexel, Dr. Stanford, a discipline-based education researcher (DBER) who evaluates and improves approaches to teaching STEM in higher ed. I also knew of her from an article she had published, "Early undergraduate research experiences lead to similar learning gains for STEM and Non-STEM undergraduates."
When we spoke, she urged me to apply to be her postdoc which focused on STEM education research and evidence-based teaching. I got the position and it was a perfect fit—despite the challenges of trying to deliver a discovery-based research experience to my students during the height of COVID.
Advice for Prospective Students
The key is finding the right mentor—it's the most important relationship you'll build in grad school. Your lab environment can change and the science can change; but your mentor stays the same. There is a power dynamic in grad school, but try developing a student-mentor relationship that is built on mutual respect by first, having an open dialogue and communicating expectations, and second, checking in every few weeks to ensure you're on the right track.