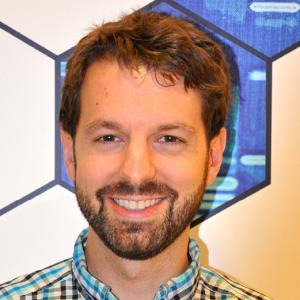 Scientific Co-founder, Lodo Therapeutics
Education:
PhD in Biochemistry '14
Advisor: Kenichi Yokoyama 
BS in Biochemistry
Elmira College '07
In 2016, Brad co-founded the drug discovery spin-out, Lodo Therapeutics Corporation, where he has led a group of 20 scientists to build out their discovery platform and has helped secure up-to-$1 billion in external collaborative funding. 
Focus Area Since Duke
Currently, I am the scientific co-founder at New York City-based Lodo Therapeutics. Lodo is reinventing drug discovery using bacterial metabolites and next-generation technologies. More than 60% of FDA-approved drugs come directly from or are inspired by nature, and a majority are bacterial in origin. As most environmental bacteria cannot be readily cultured in the laboratory, many of today's most widely used pharmaceuticals were developed from compounds produced by a tiny fraction of bacteria (< 1%). Consequently, Lodo has developed a unique and proprietary culture-independent technology to extract, screen, and prioritize molecule-encoding DNA directly from environmental microbes for the discovery of novel therapeutics. By accessing a vast source of previously inaccessible drug-like molecules, our approach has been validated through several therapeutic discovery programs, including external collaborations with Genentech, Roche, and the Bill and Melinda Gates Foundation.
My position at Lodo is Vice President of Discovery Research with responsibility for steering our basic research programs and platform development through my team of 20 staff scientists. Previously, I was an NIH Kirschstein National Research Service Award (NRSA) Fellow at The Rockefeller University, working with Lodo's academic founder, Dr. Sean Brady, where I helped shape the discovery platform that would later become our company's core technology.
Biggest Challenges Faced in Focus Area
At Duke, working under Dr. Kenichi Yokoyama, I studied mechanistic enzymology with a focus on secondary metabolite biosynthesis. I learned a remarkable amount of new and advanced scientific techniques. Equally important, he helped me develop analytical skills that I constantly rely on to rationalize and solve our most demanding problems. 
Presently, my greatest challenge is working at the intersection of basic discovery and translational medicine. At a small or medium-size biotech company, you wear many hats, and one of my roles is to bring our new drugs to market. I know the biology and chemistry, but I'm rapidly learning all aspects of drug development—how to manufacture our leads, evaluate for safety, and set up for clinical trials. While these questions are new to me, the skills I learned in the Yokoyama lab to answer them aren't. 
Involvement in STEM 
As far back as I can remember, I've been interested in science—asking questions and finding answers to our problems. But my leap into biology and chemistry research started in middle school with an independent project studying local groundwater contamination and its effect on freshwater fauna. A group at IBM noticed my work and asked if I wanted to do research in their lab. So I negotiated leaving my high school after lunch to do metallization chemistry and focus on developing new electroless plating methods for circuit board manufacturing. My dual interest in biology and chemistry progressed as part of the small biochemistry department at Elmira College where I developed a passion for enzymology and biosynthesis and looked at plant-produced enzymes that naturally increase soil fertility. I had the idea that we could take those enzymes and engineer them into other crops to increase yield, even in nutrient-deficient environments. Post-college, I spent two years working at a small biotech firm that focused on the directed evolution of human enzymes. I'd say it was my combined early life experiences that inspired me to pursue my PhD in biochemistry and a STEM career.  
Choosing Duke 
Duke Biochemistry has a reputation as a phenomenal department with a long history of success. I interviewed at other prestigious departments, at Harvard, Princeton, and UW-Madison—but Duke resonated with me because the graduate students had a different personality type—they were serious but laid back, welcoming, friendly, and the faculty were equally accessible. I was involved in new student recruitment through the Biochemistry Department and, more broadly, through my role with The Graduate School's student government. I always advised prospective students to look at the faculty and PhDs in each program, not their fellow recruits, as most end up at different schools. I quickly picked up on this when I went through the recruiting process, and it helped me find a school where I was most comfortable. 
I'd say beyond the rigorous science and the people, my other criteria for selecting Duke came down to the environment and surroundings. I fell in love with Durham—a livable city for a grad student. I have fond memories of our "pub rides" with fellow biochemistry students. On the weekends, we'd have a great time biking to various local bars and venues. 
Career 5-10 Years Out
Founding a rapidly-growing biotech company, like Lodo Therapeutics, has been an amazing experience. But looking out five years, I can see myself scaling the company and taking it public; or building a new idea into a different company and starting all over again. I enjoy constructing teams and turning new ideas into a business. 
Involvement in Alumni Network
I am still very close and stay in touch with several Duke Biochemistry alumni. Many of us have gone the way of the biotech and pharma industries, and I frequently turn to them to share ideas and seek advice. The biochemistry alumni network has been a remarkable resource.
Advice for Prospective students
Look for a mentor who can teach you the skills and nurture the attributes you'll need for success. Working in Dr. Kenichi Yokoyama's lab prepared me for my current career. Along with doing great science, his mentorship taught me about effective project management—how to organize and plan out my calendar down to every hour of the week. It felt intense at the time, but at Lodo Therapeutics, this skill has helped me organize our science across a diverse team, improve process efficiencies, and make strategically sound management decisions.