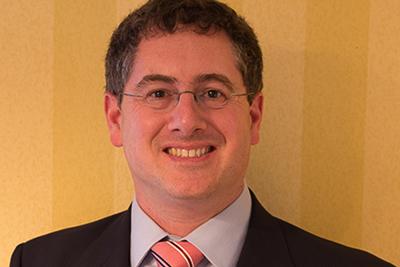 by Wendy Goldstein
An effective teacher pivots when necessary. That's just what Assistant Research Professor in Biochemistry, Dr. Brian Coggins, did when COVID hit and he was forced to take his undergraduate class online. With everything delivered via zoom, he was not only concerned about his student's learning and ability to have in-person discussions, but he was also worried about their mental health and sense of isolation. His goal was to give his students as normal a classroom experience as possible—especially true for those who took his class at the height of the pandemic.
It just so happened that pre-COVID, one of his former students had suggested Coggins set up small discussion groups led by undergrads who previously took his course, Biochem 301. Duke's Chemistry and Biology departments have been doing something similar for about ten years as part of a program called STEM Advancement Through Group Education (SAGE), but their program is delivered on a much smaller scale, only targeting students with limited scientific backgrounds. Coggins took a different approach—he would make the discussion groups optional and they would be offered to the whole class. To his surprise, roughly 95% of his students signed up the first semester, making the program a huge success and the largest on Duke's campus.
Dr. Dick Brennan, Chair of the Biochemistry Department, partnered with the Trinity College of Arts & Sciences to provide financial support while the Arts and Sciences Academic Resource Center eventually signed on to provide administrative support and facilitator training through SAGE. This allows Coggins to focus on the pedagogical side—reviewing 4-5 case studies or problems with his facilitators each week—who then turn around and work through the material with their small group of students. Facilitators are expected to prepare summary slides of course content to review, and have even developed high-quality study guides on their own initiative. Coggins says, "They are so talented and are doing work at the level of our grad students. It's been gratifying to see them flourish." But there is another benefit to having student facilitators—they keep Coggins apprised on where students are struggling, and based on the questions students ask in lecture, Coggins can tell facilitators where they might need to focus more in their groups. More insight into the student's experience has been a win-win, especially during COVID.
To get things off the ground, in the summer of 2020 Coggins recruited four peer facilitators from a strong applicant pool of 16 and in recent semesters has been recruiting eight facilitators from as many as 29 applicants. Candidates are asked to present a course topic to show they can explain the material and can provide strategies and tips on understanding difficult concepts. The interviews also assess whether the candidates can facilitate personal interactions. "Finding the best," Coggins said, "is like hiring camp counselors who can teach biochemistry at a very high level," characteristics not every top student possesses.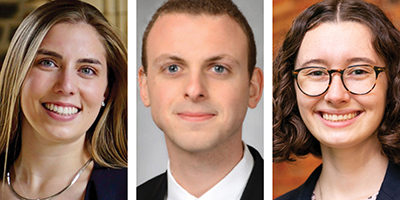 Leonie Kurzlechner, a 2021 graduate and now a lab manager and research technician in the Landstrom Lab, was one of Coggins's first hires and helped build the program from the ground up. She believes the group work is a valuable part of the course and serves as a safe space for students to ask any question. "All lectures are recorded on Zoom, so it can be intimidating to ask a question that everyone could later hear," said Kurzlechner, "Also, facilitators aren't involved in grading, so that removes another layer of stigma."
Yoni Eini, a current facilitator and premed student, meets on Sundays with the other student leaders to discuss content, and on Mondays with Coggins and Suzanne Crifo of the Academic Resource Center to get group presentation and engagement pointers. Yoni has found success starting his group with a short lecture, then works through four to five multi-part problems using "think-pair-share," a collaborative learning strategy. He finds it improves group engagement and collaborative problem solving—pillars of their teaching methods. Bea Schleupner is another senior who has facilitated groups for four semesters and finds the community-building strategy she learned through SAGE instrumental in helping students speak up and participate in the active learning process Schleupner says, "Community building makes for a more relaxed environment which increases engagement." Schleupner adds, "Even though SAGE has structure, each facilitator can have a slightly different approach." This allows her to experiment and find ways to help her students stay on track.
At the most basic level, Coggins's students must know facts like the 20 amino acids and their structures. But they also have to understand how biochemical systems work and predict what will happen when something breaks—so it's a balance between memorization and application. During his in-person lectures, Coggins continually engages his students and on Zoom, he strived for a similar level of participation. Augmenting his interactive lectures with small study groups worked well virtually and works even better now that everything is in person. Coggins now wants to make them a permanent part of his course because the groups connect talented students with those for whom biochemistry doesn't come as easily, helps students make friends in class, and are a built-in study group. Coggins sees this as a net benefit and from this experience knows that students need in-person learning, a community for support, and an understanding that faculty are there to help.