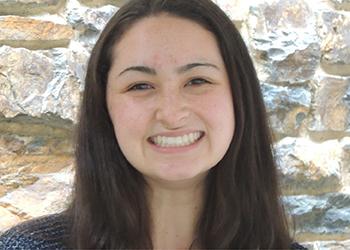 Emily Cannistraci, a Ph.D. student in Maria Schumacher's laboratory, has been awarded a science outreach and communications grant from the American Society of Biochemistry and Molecular Biology (ASBMB). The grant money will be used to hold an event that helps the public gain a greater appreciation for biochemistry and molecular biology. Cannistraci will bring roughly 30 high school students from Durham's Emily Krzyzewski Center Scholars to College program to the biochemistry department for mini-science experiments on how protein structure is related to its function. Scholars to College is a college-readiness program for ambitious, academically-focused, and underrepresented first-generation students from Durham County that prepares them for success at selective four-year colleges and universities. 
Cannistraci is no stranger to the Emily K Center—the biochemistry department has had a long-standing relationship with the center. And Cannistraci was one of four Ph.D. students who volunteered in the Scholars to College program, tutoring students one-on-one in STEM subjects. 
The intent is to host the ASBMB-funded event twice in late spring, bringing 15 students to the biochemistry department to rotate through different stations managed by PhD-student volunteers. Adding more excitement to the event, Cannistraci wants her volunteers to pitch their research and the reason for its importance.
"I think scientific outreach to high school students is important because many are unsure of where they want to go after high school. Particularly in underrepresented communities, many students are deterred by science because they do not see themselves represented in the field. I am really excited to host a science night for these high schoolers and share the excitement of scientific research and offer a glimpse into a career path they can pursue in the future."